Verbenone

The Newest Tool in the Fight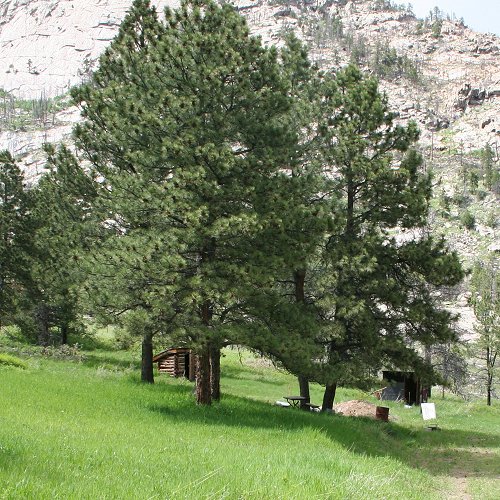 Precious Pines provide beauty. But they also perform a lot of other duties such as hiding this privy or shading the picnic table.
The Pine Beetle is the most destructive forest pest in North America. The Canadian Forest Service describes the current pine beetle epidemic as the largest insect infestation in North American history. Verbenone is a pheromone treatment that tricks the beetles into thinking that the tree is already infested and that they need to look elsewhere for a suitable host tree.
These Ponderosas are at slightly lower risk than most lodge pole forests because ponderosas generally grow further apart. When trees are spaced more generously, the beetles have a harder time flying from one tree to another. Thinning is a good practice to naturally protect the trees.
Fast delivery! Save up to 10%. No Sales Tax. Usually ships same business day (if received a.m.)
Now Approved in Canada.
Bulk packs come in foil packages with 10 pouches per package. 10-packs cannot be split up and sold as individual pouches. Neighborhood Associations, Municipalities, other organizations: Take advantage of the bulk pricing and deep discounts by combining your orders. (We can re-package for you at no extra charge to send in containers packed for each individual in your group per your specifications but charge for the group as a whole.)

ISCA Verbenone Pine Beetle Pouches

Beetle Block Verbenone Pine Beetle Pouches
See "Preventative Spraying Techniques to Control Mountain Pine Beetles" Studies have shown that during epidemic conditions, the pressure from beetle populations who must go SOMEWHERE (even if conditions are not optimum for them) may reduce the effectiveness of all treatments. Given the "find a tree of any size or perish" imperative that emerging pine beetles face, they may habituate to both chemicals and pheromones. However, we still have a few years to work on the problem in areas that are not yet overrun. That time may give just the breather necessary to let nature begin to draw back the danger or for other management techniques to take hold.
© Dataweb, Inc
Telephone: 1-512-282-3003 Fax 1-512-292-7957
9402 Roxanna Dr, Austin, Texas 78748
© Copyright 1996- by Dataweb, Inc. All Rights Reserved.