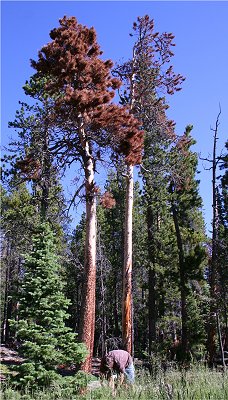 Due to EPA backlogs, ISCA Verbenone Pine Beetle Pouches may be delayed this year.
The pouches need a new EPA number for legal sale in the mountain West.
The EPA number has been requested. However, there is a backlog at the EPA (partly due to the government shutdown), and delivery is not guaranteed in time for the earliest part of beetle flight season.
That doesn't mean that your trees must go unprotected.
Switch to
SPLAT Verbenone

.

Identical Ingredients.
Just different application Method.

See the links to "Buy SPLAT"